Act Sooner Rather than Later to Increase BCS
The nutrition of the ewe is key in achieving an optimum body condition score (BCS) at tupping, ensuring high levels of fertility, and a maximum lamb crop next season. It can take up to 6 weeks to increase a ewes BCS by one point, therefore it is important to act sooner rather than later.
Most lowland ewes should have a BCS of 3.5 at tupping, upland ewes 3 and hill ewes 2.5. Separating thin ewes (BCS 2) and feeding them to improve body condition will pay dividends in the long term. Thin ewes will have lower ovulation rates and have less lambs. Recent research in the UK and New Zealand has shown that ewes in poor body condition at tupping have a 30% higher chance of being culled than ewes in good condition at tupping.
How to Manage Thin Ewes
Thin ewes should be grouped together and placed in fields with good grass. The thin ewes will need at least 0.5kg of high energy feed a day for a month to raise their BCS by one point. This small investment now will pay dividends for the whole season.
As part of your pre-tupping nutrition use a high-quality ewe feed to ensure the best possible start to your mating season. The Ewemaster range is a high energy sheep feed with optimum levels of quality protein and unique vitamin and trace element supplements. Find out more here.
Pre-tupping nutrition checklist
Start early- increasing BCS can take weeks
Group ewes according to BCS and feed accordingly
Pay particular attention to thin ewes who will have lower ovulation rates. Investment in this group now will pay dividends in the long term.
Use a high-quality ewe feed to increase BCS alongside good quality forage and supplements.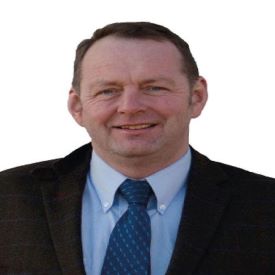 Looking for advice?
For more information contact our National Sheep & Beef Specialist, Bryn Hughes.