Modern grass varieties have the potential to deliver superior yields and excellent feed values if managed correctly, with soil nutrition and pH being prioritised and maintained throughout the year.
Before drilling a new ley, you need to understand the nutritional picture of the field. Ensure there is the right balance of nutrients to allow the crop to get off to the best possible start. Ideally, the pH should be in the region of 5.0 to 5.5 for peaty soils, and 6.0 to 6.5 for mineral-based soils. Lime applications should also be factored into a wider nutrient management plan. Depending on your soil pH, an application of Calcium Lime should be applied to address acidity, if a problem is detected. A more reactive granular product may be beneficial if you are looking to drill in the next few months, following application.
Once established, maintenance of on-going nutrition should remain a priority. I always advise farmers to consider treating their grassland like any arable crop, with the inputs scrutinised. Fantastic yields and good quality can only be achieved year-on-year if the base soil nutrition delivers and meets the crop requirements.
To understand what you're working with, soil sampling should be common place on-farm to ensure pH, N, P and K levels aren't hampering plant growth and development. An ideal testing rotation is ensuring every field is sampled at least every three to four years. One of our specialists can manage soil sampling on-farm for you, or they can analyse samples you take into a Wynnstay store. We can then work with you to create a bespoke fertiliser plan, which fits in with your system and forage needs.
For grassland establishment in the spring, an ideal product to use is a compound NPK, which provides equal measures of N, P205 (Phosphate), and K2O (Potash)/ha. Nitrogen will promote rapid growth while phosphate will help the grass seedings to establish quickly by promoting root development and potash is essential for all round plant health and assists with the uptake of the nitrogen. Autumn sown or grass/clover swards do not need nitrogen, so autumn grade products such as 0-24-24, or even straights such as TSP and MOP can be used.
Phosphate and potash recommendation for grass reseeding
P or K Index

0

1

2

3

4 and higher

kg/ha

Phosphate

120

80

50

30

0

Potash

120

80

60 (2-) / 40 (2+)

0

0
Another factor to be wary is sulphur deficiency as symptoms can be confused with a lack of N. Grass leaf analysis is the best way to monitor sulphur, and again, we can do this analysis for you and build the results into your fertiliser plan. Investing in a quality ley and allowing grassland to reach its potential, will pay dividends from a forage quality and quantity point of view.
---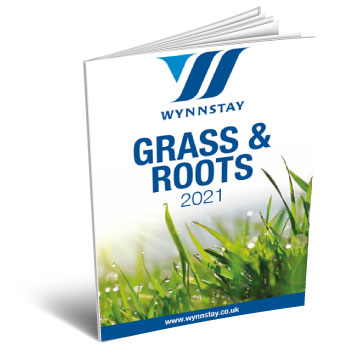 Grass and Roots 2021 Brochure
Request a copy of our Grass & Roots brochure, choose to recieve either a printed copy or a digital copy.