What can we expect in 2021?
After the challenge of harvest 2020, we go into 2021 hoping for an improved year not only in agriculture but that Covid-19 will slowly dissipate with the distribution of a vaccine. From a purely agricultural point of view, there is already more optimism that the majority of crops planned to be drilled in autumn 2021 have been.
To put into perspective the effects of what last year's extreme weather had on the cropped area, there is usually a winter wheat area of 1.8million hectares but last years plantings from AHDB were at 1.36million hectares. To coincide with the lower planted area, yields, for the most part, were significantly back with winter crops struggling due to far from ideal drilling conditions and drilling dates, as well as the drought in May/June.
Spring Cropping
Understandably spring cropping saw a resurgence on the back of the weather with the majority of species seeing an increase in popularity. The largest growth in area was in spring barley where the usual area is around 700,000ha's and there was nearly a 50% increase with the area growing to over 1 million hectares, which was one of the causes for the feed barley and feed wheat price differential at harvest. Spring wheat also saw a large increase with UK supply not being able to meet demand which led to thousands of tonnes of seed being imported from the continent.
There are still knock-on effects being felt on seed quality and for spring seed this has been noted on germinations with some seed crops failing nationwide. This has been due to the secondary growth which was seen in numerous spring crops across the UK, as well as the challenging harvest conditions. So, despite there being a reasonable area of spring seed planted the outturn has come back considerably from initial estimations.
With regards to varieties, there are several options both old and new to consider across a wide range of species. Spring barley has been heavily dominated by Laureate and RGT Planet with the two varieties taking over 60% market share between them consistently over the past few years. Both varieties have a proven performance with RGT Planet predominantly being grown as both a brewing and feed type and Laureate as both a malting and feed type. Early interest is showing that the two will be highly sought after again this year but there are alternatives to potentially consider.
LG Diablo saw an increase in popularity so expect this to grow again this year now that it has approval for both brewing and malting as well as being slightly higher-yielding than Laureate and RGT Planet. Following behind Diablo in the trialling system are SY Tungsten and SY Splendor from Syngenta, which will both have seed availability this year.
Tungsten is being tested for malting and brewing and so far looks to have a higher yield potential than the other varieties previously mentioned. Splendor is being tested for brewing but does seem to have good potential as a feed variety in the West with its yield and brackling scores.
Spring Oats & Wheat
Spring oats have seen a resurgence in recent years with their rotational benefits and consistent yields. The most interesting varietal addition in this sector is WPB Isabel which is a high yielding, a stiff strawed variety that also has the potential to gain traction with end-users. This is mainly due to it having a specific weight higher than any spring or winter oat currently on the recommended list so we expect to see good demand on this.
When it comes to spring wheat the two stand out options look to be Mulika with its Group 1 breadmaking potential and KWS Cochise as an extremely high yielding Group 2 variety which would also be the feed variety of choice.
Pulses
Pulses are the sector which has been gaining a lot of momentum over the past few years, particularly with the decline in the oilseed rape area which has more than halved in size since 2014 with latest estimates having the area drilled in 2020 at roughly 310,000ha. Winter beans had a huge amount of interest but due to the poor drilling conditions and the drought, yields on seed and commercial crops were for the most part extremely disappointing. This led to a huge amount of early interest in spring beans in the autumn due to winter bean seed not being available. At the time of writing, there is still availability on spring beans but they will sell out due to early demand and the natural increase in the seed area.
For the most part, there is still the question mark on what is the ideal break crop particularly on arable farms where flea beetle has reduced the oilseed rape area, but there are a number of minor crops to consider and at Wynnstay we stock a range of alternatives such as maize, grass seed and a wide range of forage crops.
To discuss your spring seed requirements, click here, to speak to our Arable Product Management Team.
---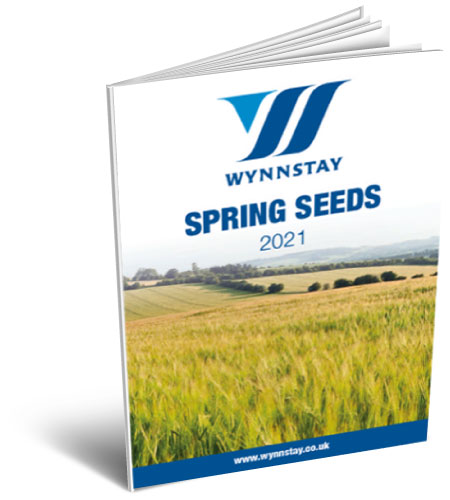 Spring Seeds 2021
The Spring Seeds 2021 brochure features information and advice on the latest cereal seed varieties, as well as informative articles on key topic areas for the coming season.