It is estimated that 10% of UK farms already use robotic milking, but they also constitute 35% of all new milking systems being purchased. In Holland 40% of dairy farms are automated, with some Scandinavian countries as high as 50%. The number of cows milked in robots is expected to more than double in the next 5 years.
The 3 biggest reasons for choosing automated milking continue to be:
Improved lifestyle and flexibility with working routine
Desire not to have to manage as much employed labour
Improved cow health – earlier detection of illness due to robot data, less standing time and improved hoof health
An increase in milk production by moving to robots can be expected of between 10 – 20% in most cases, depending on
the following factors:
Do you currently milk twice or three times per day? There will be a bigger response going from 2 x milking per day into robots where the average milking target should be 3.0 or higher.

Retrofit or new building? Most robot installs are retrofitted into existing buildings. Refurbishing cubicles should be considered and widening passageways alongside the building work for the robot install. Improving cow comfort and lying time will increase milk production.
Current milking time. The average milking time in a robot is 6.5 minutes. Compare this to your current milking parlour including standing time. Even in the most efficient systems 1 hour per milking x 3 milking's per day = 3 hours. 3 milking's in a robot will be 19.5 minutes on average, therefore a huge reduction and opportunity for the cows to eat/lie down more.
Nutritional Considerations
which many nutritionists fall into. Careful consideration should be taken to balance the energy provided both in the base ration and through the robot feeds. 80% of the energy required for the average yield cow should be met in the base ration to encourage visits to the milking station.
---
Farm Case Study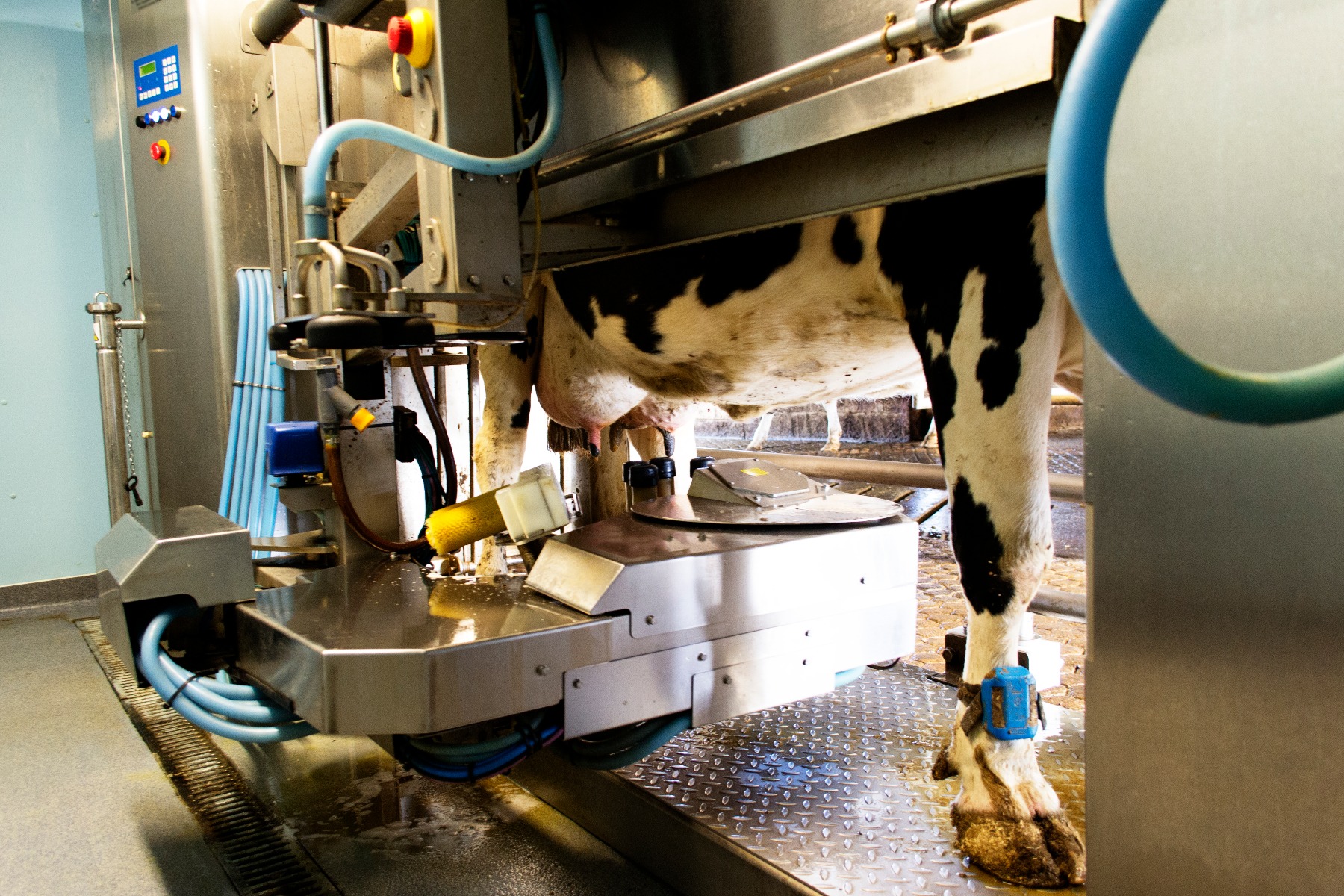 Farm Owners: TA & R Owens
Farm Location: Argoed Farm, Cenarth, Carmarthenshire
Robot Installation: March 2018
Model: 2 x Fullwood Merlin
2018 Milking
Parlour
2020 Robots
Difference
305-day milk
production

7,015

8,250

+17.6%

Cows in milk

60

1100.32kg

+50

Feed rate per/L

0.26kg

+0.06

SCC

192

185

-7
Q. What were the biggest reasons for choosing robots?
A. We wanted to expand the herd, but this meant we would need to employ labour and add costs to what had been a low input system – robots gave us the solution of expansion without employing additional labour.
Q. What has been the biggest benefit of milking with robots versus a milking parlour?
A. Robots have allowed me to spend more time with my wife and three young children which was another reason for installation. The system also allows us to milk three times per day which has improved our cow's milk production.
Another benefit is that most of our fieldwork is done by ourselves and during the silaging time, by having the robots we don't need to stop and go milking and miss out on crucial time in the field, it has given us more flexibility.
Q. Would you do anything differently thinking back to the building work?
A. I would not change anything with the robot layout itself and robot installation, however, I would put wider passages between the feed fence and cubicles and between cubicle rows – currently 12ft but we would have preferred 16ft to improve cow flow in the shed.
Q. Any plans for expansion in the future?
A. We would consider installing a 3rd robot and milking another 60 cows to expand the herd further as well as renting more land to support this.
Q. What advice would you give to anyone considering robots?
A. We designed our system to include a separation area behind the robots to which the robots can segregate cows for vet routine visits or routine foot trimming. This has proved invaluable from a labour efficiency point of view and I would highly recommend it to anyone thinking about installing it.