New Volac research has taken a deeper look at the benefits of making multi-cut grass silage, whereby grass is cut younger and more often over the season, and examined how to better conserve this potentially high quality forage.
"Theoretically, we know that multi-cut offers several nutritional advantages," explains Volac silage scientist, Philip Jones. "As well as being higher in protein, younger grass should also be higher in metabolisable energy (ME).
"Accordingly, this latest two-year research project examined these aspects of quality. By measuring yield, we were also able to derive a figure for how much extra ME/ha the multi-cut system could potentially deliver."
Pointing to findings, Mr Jones says fresh grass from the fivecut, the multi-cut system was true of higher nutritional quality than from a conventional three-cut approach.
Average digestibility from the multi-cut was 3 D units higher, at 72.7 versus 69.7, which equated to it delivering an extra 0.5 MJ/kg of ME. Crude protein content was also almost 3% higher, at 16.7%.
"When overall yield was measured, we also found that five cuts delivered an extra 0.92 t/ha of dry matter in total, with a DM yield of 16.92 t/ha.
"When this extra 0.92 t/ha of DM was multiplied by its higher energy content, this was equivalent to it providing an extra 18,582 MJ/ha of energy over the season (figure 1).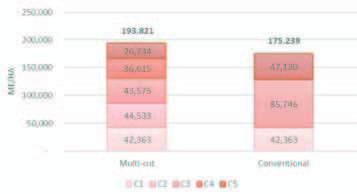 Figure 1. Higher energy yield per hectare in multi-cut versus conventionally-cut grass (source: Volac two-year research project)
"If you take 5.3 MJ of energy being required to produce 1 litre of milk, this means the multi-cut had the potential to deliver an additional 3,506 l/ha."
As well as demonstrating the extra energy potential of the fresh multi-cut grass, the new research also shed light on its preservation.
Mr Jones says: "While the higher protein content of multi-cut is a benefit, it can contribute to buffering of the fermentation. Also, shorter intervals between cuts mean less time for the slurry to dissipate before the next cut, which increases the risk of slurry bacteria. The combination of high buffering and the action of slurry bacteria can lead to DM losses.
"With this in mind, a further part of the research examined how these might be mitigated by comparing how the fermentation proceeded in multi-cut samples without an additive, versus where Ecosyl was used.
"Results showed that not only was the fermentation slow without the additive (figure 2), but there was also a big increase in enterobacteria numbers, which are the bad bacteria often associated with slurry, where no additive was used (figure 3). Ultimately, nearly 10% of the DM was lost across all cuts of the untreated silage.
"Where Ecosyl was used, not only was the fermentation faster, with the pH falling rapidly (figure 2) – which is key for inhibiting bad bacteria – but enterobacteria numbers were between 100 and 100,000 times lower (figure 3), and the average DM loss was almost halved (figure 4). There was also evidence of better preservation of protein," he says.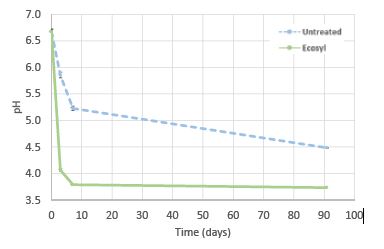 Fig 2. Faster pH fall in multi-cut silage treated with Ecosyl versus untreated Source: Volac two-year research project,second of four cuts as an example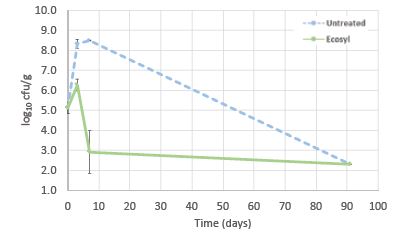 Figure 3. Lower Numbers of enterobacteria in multi-cut silage treated with Ecosyl versus untreated (source: Volac two-year research project, second of four cuts as an example)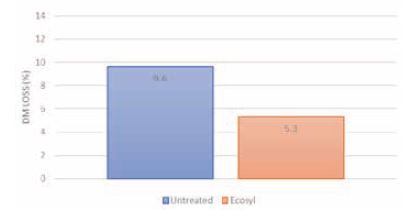 Figure 4. Reduced dry matter loss in multi-cut silage treated with Ecosyl versus untreated (source: Volac two-year research project, average of four cuts)
"In summary, it was clear that multi-cut grass offers the potential for more nutritious silage and higher yields, but it needs conserving properly. Treating with Ecosyl helped to achieve that," Mr Jones concludes.