Create your very own wildflower meadow with our helpful wildflower growing guide. Here, we offer advice on how to prepare your soil for the seed and how to maintain your perenials and annuals.
How to prepare for Wildflower Sowing
Spray off grasses, weeds or any plants in targeted area (alternatively lift the turf for the same effect)
Using a garden fork or rotavator, break up the soil to make a fine seedbed
Allow 2-6 weeks and spray or hoe any weeds that appear during this time
Rake over and roll to a firm and fine tilth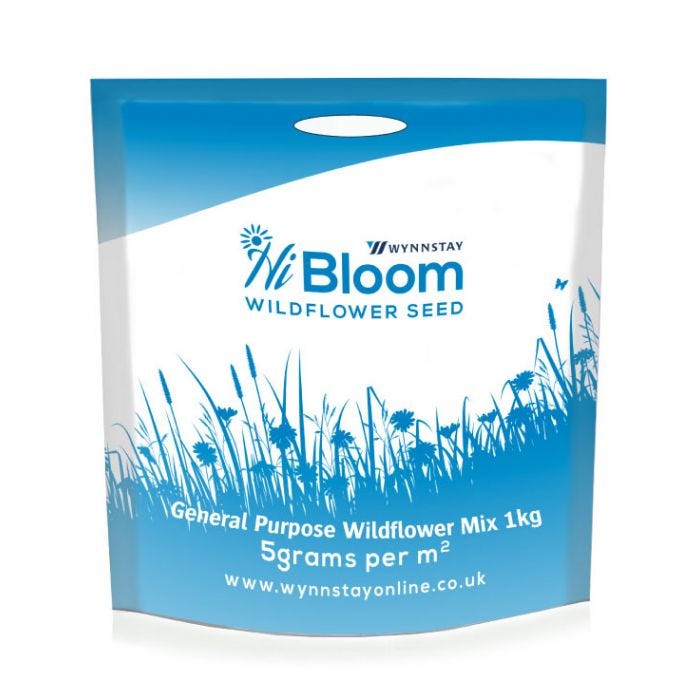 Sowing Your Seed MIx
The best time to sow is in the Spring, from mid March to late May, then again from early August to the beginning of October.
For a straight wildflower seed mix sow at 1-2g per m²
For a grass and wildflower seed mix sow at 5g per m²
Mix seed with sand or fresh soil to help spread the seed evenly
Broadcast the seed mixture by hand (alternatively for large areas use a lawn fertiliser spreader)
Sow half the seed across the section from left to right. Then sow the other half from top to bottom. This will ensure even coverage
Immediately after sowing gently rake over, making sure not to cover the seed more than 10mm and tread in or roll in the seed to get maximum seed to soil contact.
How to Maintain Perennial Wildflowers
In the first year of sowing cut the meadow every two months or when the meadow reaches 15cm to a height of approx. 5cm until September - October.
Ensure that you collect the mowings - It is important to remove all debris as you do not want the nutrients from the plants going back into the soil, as this will increase soil fertility. Removing the debris will also allow light to reach the wildflowers to encourage new growth
In subsequent years, take the first cut down to 7.5cm in March/April. The second cut should be taken in August - October making sure to remove all cuttings
How to Maintain Annual Wildflowers
If Autumn sown, once the flowering period is over and any potential seed shed has occured, cut around August/ October and remove the debris. This will help to reduce weed competition
Discover our Range of Wildflower Seed