Don't Take Shortcuts With Nutrition For Spring Crops
Know what soil reserves you have in the ground, get your fertiliser on early and use little and often applications, is the advice CF Fertilisers' arable agronomist Allison Grundy has for growers planning spring crops.
Spring crops have a lot of growing to do in a short period of time so you have to use nutrients wisely to get the best out of them. It's complicated by the fact that many people are turning to spring crops for the first time as blackgrass takes hold, so it can be a pretty steep learning curve. In fact, CF Fertilisers is just completing new fertiliser recommendations for spring barley crops based on ADAS-reviewed data and this will be a great starting point for many, she says.
"As with winter crops, the first priority is to know what Nitrogen the crops already have available to them from the soil and those growers familiar with CF's N-Min soil testing will already understand the importance of this.
"There's no point adding Nitrogen if the crop does not need it but, equally, if you under apply fertiliser the crop will not reach its full economic potential. Plus, if you're growing barley for malting, it's imperative you manage Nitrogen levels properly.
"This is where CF N-Calc is essential as it can work out exactly what N is required with regard to both the yields and quality you want to achieve."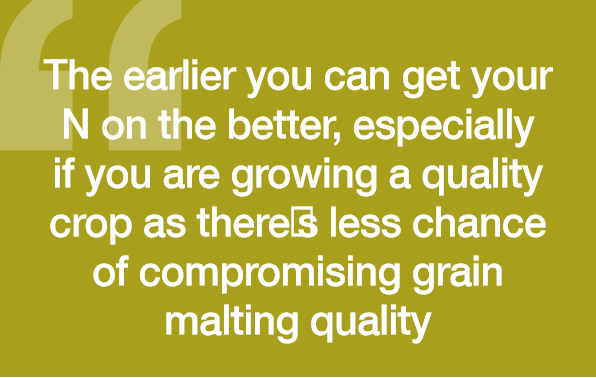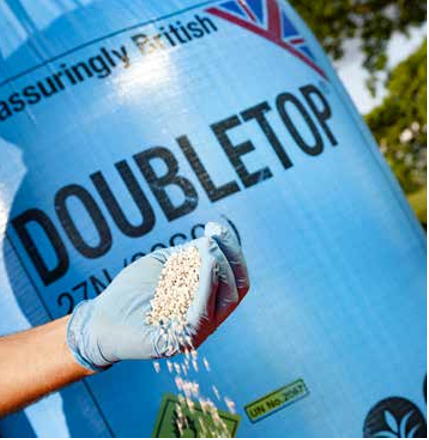 Getting the crop drilled and established as soon as practical is also key with an early application of Nitrogen being the objective, Allison Grundy points out.
"The earlier you can get your N on the better, especially if you are growing a quality crop as there's less chance of compromising grain malting quality."
"For most people, a split application of N in the seedbed followed by the remainder at the first sign of establishment - the so-called 'green haze'- is ideal. If you're going to be applying over 70kg N/ha, RB209 recommends an application of 40kg N/ha in the seedbed unless you are on very light, sandy soil."
Spring crops can be 'leaky' and you need to be mindful of this, aiming to apply little and often so the plant can effectively utilise the N quickly, she says.
"That said, you should be aiming to apply the majority of N before growth stage 12-14."
"Sulphur is essential too as it increases Nitrogen utilisation creating higher yields which dilutes N levels in the grain - again an important consideration for growers aiming for malting markets."
Finally, don't forget P and K. Take-offs in spring crops for grain and straw are 8.6kg/T P205 and 11.8kg/T K20, Allison Grundy advises. "If you're around index 2 for P and K, you need to be thinking in terms of adding 50kg P/ha and 40-70kg K/ha to get the most out of your spring crops.
"Without adequate levels of these vital elements you will never achieve what you want to from your crops. Spring crops grow rapidly with only limited time so it is essential all vital nutrients are available to them when they need them."
---
Contact Us
Need advice? speak to our team of agronomists.