Quality grass is a cost-effective part of feeding and regular reseeding ensures that the required nutritional value of the ley is maintained. New leys can help deliver a 33% increase in yield in the first year compared to a typical old sward, and in a drought year this can increase up to 50%.
What should I think about when it comes to selecting the right mixture?
The first things to consider are how long you would like the ley to last and what you want the mix to do - is it a short / medium term mix for silage or a medium / longterm mix for grazing and/or silage? Another important consideration should be whether the mix would benefit from additional species such as clovers. Speak to a Wynnstay specialist for bespoke advice on the best mixture for you, making sure that all the varieties within the mix are on the Grass and Clover Recommended List.
Which fields should I reseed?
It is often suggested that you should look to reseed about 10-15% of your grassland each year. However, the main factors to consider are:
Whether there is a high level of weeds, such as docks and thistles, in the ley
How well the ley responds to nitrogen applications
Are the leys producing less forage per acre and is the regrowth slower after a graze or cut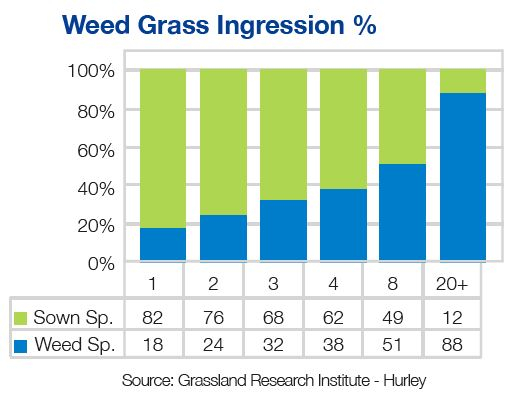 Once the decision to reseed has been made; following these steps will help to fulfil the potential of the reseed:
Destroy the old sward using a product containing glyphosate. Ensure there is sufficient new growth for the chemical to be taken up and that an appropriate rate is applied under correct conditions. Whilst this treatment will control actively growing plants it will not kill dormant seed in the soil
Take a soil sample at 10cm (4 inches) to analyse pH, P and K indices. Speak to a Wynnstay specialist for more support on grassland soil analysis
When you have an understanding of your soil status, apply FYM
Follow this with a plough and press
Apply seedbed fertiliser as discussed with your specialist. Apply lime to achieve 6.5 pH at maximum of 5t/ha (2t/acre), split-dress if more is required
Work down to prepare a fine, firm seedbed and ring roll
Drill or broadcast the seed onto the rolled seedbed. Ring roll or light harrow to ensure maximum contact between seed and soil. Grass and clovers will not germinate until the average daily soil temperature is above 5 degrees. Temperatures need to rise to achieve satisfactory growth
Graze periodically from 8-12cm (3-4 1/2 inches) down to 3-6cm (1-1 1/2 inches). This will help achieve a densely tillered leafy sward. The removal of grass allows light to reach and stimulate grass tiller buds and clover growing points. Sheep or young cattle are less likely to poach the developing sward
Weed control in the new ley is essential to ensure good establishment and to avoid a gappy sward
If significant weed problems are expected, you should consider establishing the ley without clover and introducing it once a herbicide has been applied to the sward
Benefits of Reseeding
Reseeding an existing ley can lead to a significant return on investment. Within several years weed grasses will ingress into a sward - particularly if the field has experienced poaching or after a hard winter. These weed grasses have poor quality characteristics compared to ryegrass varieties from the Recommended List. These include poor digestibility and a poorer response to fertiliser, as well as not converting to meat and milk as efficiently as ryegrass.
Top Benefits of Reseeding
Improved yields
Higher DM intakes
Enhanced disease resistance
Earlier turnout of stock
Increased stocking rate
Increased palatability and digestibility
Improved grazing and silage quality
Higher response to Nitrogen (N) fertiliser
With the increase in volatility of fertiliser prices, it is important that a grassland nutrient programme is cost-effective.
It is essential that the sward comprises of grass species which respond to fertiliser to maximise on-farm profitability. After all, there is little point applying fertiliser to a sward, which mainly comprises of weed grasses. This is both a waste of money and resource.
The graph clearly shows the variance between perennials' efficiency and the efficiency of common weed grasses when nitrogen fertiliser is applied.
---
Contact Us
Our team of experts are always on hand to help you out with any advice you may need with regards to buying, sowing and harvesting agricultural seeds.