Goals of Heifer Rearing Programme
The AdVanceTM Heifer Rearing Programme is geared to efficiently rear Heifers to meet critical development goals at optimum levels.
The Heifers will reach puberty at approximately 10 - 11 months of age and weigh 270 - 295kg, before going on to develop to their most favourable breeding age of 14 - 15 months; standing at 50 - 52" tall at the hip and weighing 350 - 400kg.
Sound development in this way will gear the Heifer up for calving at 24 months of age, weighing 610 - 630kg, with a Body Condition Score of 3.5.
In summary, the programme supports a relatively constant rate of weight gain; 0.8kg/day from birth up to calving, whilst optimising feed costs.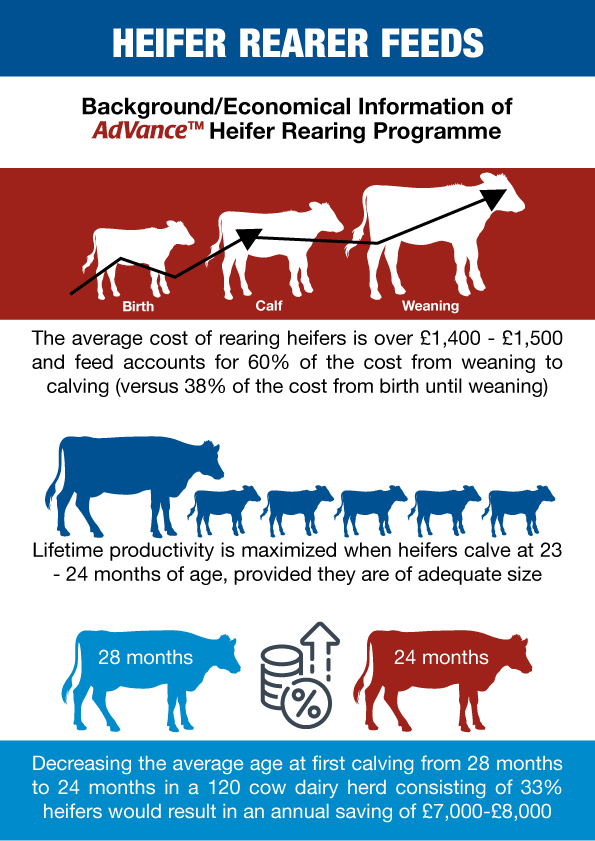 Contact us to find out more about our heifer feeds
Our team of experts are always on hand to help you out with any advice you may need.
Three quality, compound feeds from 16% to 20% crude protein. Can be fed with any forage or combination of forages. Feed from 10/12 weeks of age through to eight weeks before calving
Advanced Heifer Rearer Feeds
Heifer 600 Nuts + Biotin
Application: High genetic merit. Straw and/or restricted silage. Biotin for improved hoof strength.
Availability: 20kg bags, 500kg totes, bulk
Rearer 18 Nuts + NIS Nuts
Application: Medium to high genetic merit. Straw or silage.
Availability: 20kg bags, 500kg totes, bulk
Rearer 16 Nuts
Application: Medium to high genetic merit. Silage/hay.
Availability: 20kg bags, 500kg totes, bulk
Background/Economical Information
The average cost of rearing heifers is over £1,400 - £1,500 and feed accounts for 60% of the cost from weaning to calving (versus 38% of the cost from birth until weaning)
Lifetime productivity is maximized when heifers calve at 23 - 24 months of age, provided they are of adequate size
Decreasing the average age at first calving from 28 months to 24 months in a 120 cow dairy herd consisting of 33% heifers would result in an annual saving of £7,000-£8,000 Weaning to Six Months of Age
Wean heifers based upon dry feed consumption more so than age (most dairy calves are weaned between 4 - 8 weeks of age)
Feed a high quality calf starter
Once heifers reached target of regularly consuming over 2kg of calf starter per day for three consecutive days, they can be weaned
Be certain to group calves according to body weight/size
Do not begin feeding silages until calves are weaned
Six Months to Breeding (13-16 months of age)
Utilise forages as the primary basis of rations during this period
Feed concentrates only in amounts needed to balance the ration for the desired amount of daily gain
Have forages analysed so that quality is known, not estimated
Puberty is a function of weight, not age. Expect Holstein heifers to reach puberty when they weigh 270 - 295kg
Breeding to Calving (23-25 months of age)
Continue to maximise forages, feeding only enough concentrate(s) to meet animals requirements. Usually 0.5 - 3.5kg of concentrate/head/day, depending on forage types available
If fed on excellent quality hay, silage, or grazing, no supplemental concentrate may be needed for the majority of this period
Follow the Wynnstay 80/20 Dry Cow Programme in the last eight weeks before calving
| | | | | | | | |
| --- | --- | --- | --- | --- | --- | --- | --- |
| Age (Months) | 0 | 4 | 10 | 12 | 15 | 22 | 24 |
| Target weight (kg) high merit (Holstein) | 45 | 130 | 275 | 325 | 400 | 575 | 600 |