General Guide
Easy Fence Panel Installation
Installing or replacing a damaged fence panel is much quicker and easier if you use a purpose-designed post support system. Forest's 'FenceFast' easy-fit range, available from most garden centres, is particularly simple to use and is the only type to cater for almost any post size and design.
Easy Fence Post Repair
Thankfully there is a labour-saving way to repair a broken or rotten fence post that was originally set in concrete, without the effort of digging up and replacing the concrete itself. A purpose-designed easy-fit 'repairfast' spike (available from garden centres) can be installed around the old post base, and a new post can be fixed into place.
Install to Last
To keep fences firm and rot-free check whether they are actually installed correctly. Pressure-treated timber has been fixed with an anti-rot preservative during manufacture so it is protected from the elements - and direct ground contact - for around 15 years. Dip-treated panels, however, need a pressure-treated gravel board beneath them to prevent direct ground contact and extend panel life.
Invest in suitable posts. Heavier fence panels and most garden pergolas will benefit from the added strength of 100mm posts
Check your posts are long enough before fixing. Always ensure posts are sunk at least 600mm (2') into the ground. If you are erecting panels over an uneven or sloping surface remember you may require longer posts in places
Quality First
As with anything in life, you get what you pay for. Whether you need to replace a complete garden boundary, arch, pergola or shed buy the best quality you can afford; you'll be minimising repairs and replacements later on. Where you position these items is equally important. If you can't avoid an exposed spot then look for a style that can cope with the elements. Extra heavy-weight, lattice-work fence panels can be an especially good buy - they provide strength and durability whilst allowing the worst of the winds to pass harmlessly through.
Timber Care Top Tips
Check the condition of all your garden fences, posts, structures and stores, securing any loose joints and replacing weakened or broken items. Sand off any old, flaking stain or dirt from dry surfaces and apply an annual coat of good quality wood preservative.
Spring & Autumn are good times to work on your fence. Any flowers and leafy plants in borders alongside the fence will have died back, so walking on the area will not damage them too much. However, maintenance on any trellis with climbing plants should be carried out in early spring before the plants start to grow again.
Decking will benefit from a good clean and an application of preservative or stain, decking oil and decking protector, to help prevent moisture damage and mould growth.
If roofing felt has been torn or damaged on garden buildings, replace and ensure it is fully secure. Give all glazing, oil hinges and window fixings a good clean. If metalwork shows signs of rust, clean and apply a paint treatment specifically made for garden furniture. Check all fixings are tight and then your building will be ready to withstand the winter weather to come.
The best time to treat your shed is usually in spring or autumn when you have a dry day. This means that the timber will not be too wet or dry ensuring you get the optimum absorption of treatment in the timber. Do not treat you timber when it's raining as the treatment will simply be washed away.
Storage Tips
When there is no more need for garden furniture, store it in the shed or garage to protect it from the winter weather and allow it to dry out.
Be frugal and save seeds in a cool, dry, frost-free place, such as a tin box in the shed. These can then be sown in the spring.
Remember to check that your tools are in good working order and store them away for when you next need them.
Dig and store summer tubers and bulbs, which can then be planted again in spring
Delivery & Assembly
We advise a standard delivery time of 7 - 10 working days, for larger structures please see the below.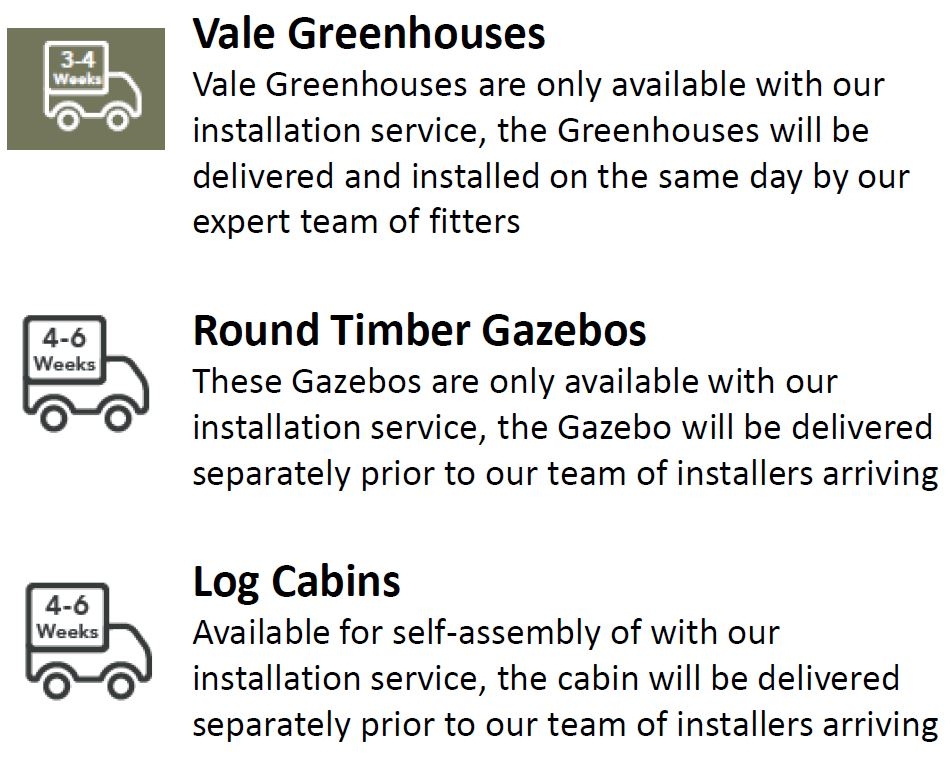 FAQs
Q. What's the point of treating garden timber - surely it takes care of itself?
A. Wood is a beautiful, practical material that gives years of solid service outdoors. But the weather - good and bad - does take its toll, and before winter's rain, wind and frosts set in I recommend giving all your garden timber a simple 'health-check' every year to maintain both looks and safety:
Check the condition of all panels, posts and pergola rafters. Securing any loose joints and replacing weakened or broken items.
Treat with a good timber care product to enhance the colour and protect the surface.
Q. Why are my golden fence panels turning grey and what can I do?
A. Most garden timber products are dipped in a dye during the manufacturing process to make the wood grain look consistent, but this colour isn't permanent and gradually fades when exposed to the elements. In time wood that is left untreated becomes silvery grey and rough, like the bark on a tree, as the grain gradually opens and lets in moisture - but wait this long and it may be almost impossible to reverse! Instead, when timber is around one year old, apply an annual coat of good quality wood preservative. This will enrich and revitalise the surface of the wood just like a skin moisturiser. They also contain anti-fungicides that will help prevent rot, mould and lichens.
Q. My fence panels warped last year after treatment. What went wrong?
A. I suspect you applied the treatment in hot weather, causing the wood to bend and rapidly dry out. Here's a good tip to ensure success; choose a dry, mild day, drip a little water onto the panel surface and watch. If the droplets stay on the surface, the wood is too waterlogged and will not absorb what you apply. If the water soaks straight in it is ready for the treatment.
Q. How should I care for my wooden decking?
A. Decking is an investment and proper care will keep the surface texture smooth and attractive. Each autumn give your deck a good wash with a hosepipe or pressure washer to remove any slippery build-up of dirt. If you want to refresh or change the colour of your deck, let it dry thoroughly and apply a decking wood stain that has been specially formulated to withstand wear from foot traffic. Finally, you need to seal the wood with a decking protector, with waxes to help prevent moisture damage, a preservative to keep the surface free from decay, and an algaecide to prevent mould growth. If you have a hardwood deck, you should also consider an annual treatment of revitalising decking oil.
Q. How can I keep my shed and other timber structures in good shape?
A. The same principles apply to sheds and structures, as to fences. Check the condition of the timber, clean and protect with a good quality water-based preservative. If roofing felt has been torn or damaged, replace and ensure it is fully secure. Give all glazing a good clean. Oil hinges and your window fixings. If metalwork shows signs of rust - clean and apply a paint treatment. Check all fixings are tight and then your