Farm Specific Nutrient Planning

Inclusion of spring cereal crops in rotation can be economically beneficial, providing either cash crops or valuable home-grown starch and energy feed sources. However, to see a good return on investment, it's important to achieve maximum potential yields and this requires attention to detail when it comes to a nutrient plan.
Before considering nutrient applications, it's vital to ensure soil pH levels are right because if soils are acidic, any nutrients applied will be restricted. In 2016, 83% of arable farmers in the western region were reported to have a pH below the optimum level, suggesting an application of lime would be beneficial for many growers to fully utilise available nutrients.
Balancing Nitrogen (N), Phosphate (P) and Potassium/Potash (K) levels is the next thing to consider and is crucial to producing a successful crop. However, with considerable variation in N, P and K levels between farms and fields within farms, soil testing is recommended to enable bespoke nutrient plans to be developed.
This is particularly important for spring cereal crops as the growing window is short, therefore there is less room for error in crop nutrition if full growth and yield potential is to be realised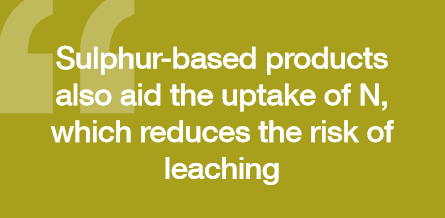 ---
Nutrient Focus
The most important nutrient on any farm is the one that is the lowest, as it restricts the rest.
N is involved in the process of photosynthesis and is responsible for protein production. It therefore has an integral role in plant growth and directly impacts the number of grains that are set on the individual ears in a cereal plant. N efficiency is improved by adequate levels of sulphur.
The importance of sulphur should also not be overlooked, particularly in western areas, where an average of 96% of tested farms were deficient in 2017.
As it plays a key role in the structure of proteins and functioning of enzymes, Sulphur is also involved in the defence of plants against stresses and pests, so often those crops which are deficient are more susceptible to disease risk.
Sulphur-based products also aid the uptake of N, which reduces the risk of leaching, which is again important for a spring crop with a short growing window.
P is involved in energy transfer within the plant, especially during periods of rapid growth. In the early stages of plant growth, it promotes root development, therefore if its availability is limited, it can affect the efficiency of uptake of all nutrients.
For this reason, I always recommend soil testing as soon as possible after harvest, to ensure that there are sufficient levels of P in the soil to satisfy the early demand of the crop after planting. If levels are deficient, they need to be topped up before the root development stage.
K is key to the transportation system within the plant. It's fundamental to many metabolic processes, through the activation of a large number of enzymes required for chemical reactions.
It controls cell sap content, which is crucial to maintain a turgid crop and has an essential role in the distribution of sugars and proteins made by the green tissue, for plant growth and grain fill.
Alongside N, K increases yield through influencing the boldness of grains, which significantly affects the profit margin.
Every field and farm is different, so for maximum impact from fertiliser applications, speak to your local Wynnstay specialist who can create a bespoke fertiliser plan.
---
Contact Us
Our team of experts are always on hand to help you out with any advice you may need on crop protection, fertiliser and our complete agronomy package.