WYNNGUARD is the ultimate energy boost for your calves' health and performance.
WYNNGUARD is a bespoke health package concept – unique to Wynnstay. It is the ultimate additive for calf health and performance, now available in our range of milks and Start 'n' Wean feed, offering your calves total digestive tract protection. The package differs slightly in milks than in the starter feed – working with the calves' developing digestive system.
With WYNNGUARD added to our enriched milk formulas, you can rest assured that your calves will continue to receive all the goodness that Mother Nature intended - even after the calf has left mum. This is because it contains Butyrate, which reminds the young calf of the smell of its mother's own milk and therefore stimulates consumption and nutritional input.
Key Benefits:
Contains a pre-biotic, supporting the development of good bacteria along the calf gut leading to a healthier digestive system.
Helps guard the calf against opportunistic pathogens that cause disease and possible death
Kills bacteria and viruses which infect gut/lung tissue
All of these qualities make WYNNGUARD your advanced health and nutritional calf milk and feed package, to help you to achieve your growth and performance targets.
Following its inclusion in all WYNNGUARD calf milk replacers, WYNNGUARD is now a key component in our Start 'n' Wean calf starter feed - offering your calves total digestive tract protection.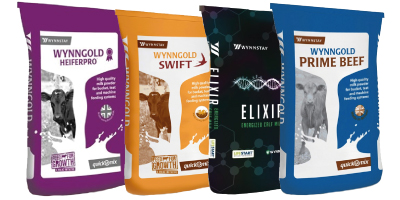 Want to protect your calves against infection?
Contact us today to find out how!
WYNNGUARD helps your calves to fight infections
WYNNGUARD binds pathogenic bacteria such as e.coli - a common cause of neonatal calf diarrhoea - and salmonella, while supporting the development of good bacteria along the calf gut.
Because it helps to ensure your calf is better prepared to handle and resist infection, it can reduce scour and respiratory-associated medical costs.
Your growth targets are more easily achieved because WYNNGUARD's focus is on optimal early rumen development and increased starter intake, during the transition from milk replacer to solid feed.
Since we know the dam's colostrum, and the milk produced, assists the new-born calf with its growth and maturation processes, it shouldn't come as a surprise that some farmers report performance improvements if colostrum is fed longer than typically recommended, or if transition milk is included into early calf-feeding protocols.
It's this on-farm experience of the dam's natural protective early milk, that has guided the high inclusion of live yeast in WYNNGOLD milk replacer.
How WYNNGUARD Works for You and Your Calves - The Science
WYNNGUARD's milk package works with the calves' developing digestive system, supporting the calf immune system as it transitions from passive immunity, provided by maternal antibodies (colostrum) to its own achieved immunity.
WYNNGUARD has specific sticky sugars that mimic the action of bovine oligosaccharides (BOS) found naturally in cow's colostrum and transition milk.
B-glucans support the calf as it develops its own immune system without its mother, making it better equipped to deal with an immune challenge.
It also contains high-quality live yeast, which safeguards the calves, stimulating the immune system by increasing white blood cell activity.
WYNNGUARD's effective probiotic and prebiotic combination provides the ultimate protection to the lower gut. It significantly boosts average daily weight gains in calves, aiding their feed conversion ratio, while improving weaning success by ensuring a smoother, safer transition to solid feed.