Poultry Advice
We offer a complete service to help farms achieve exceptional production, coupled with sound management advice. Our highly experienced poultry specialists work in close partnership with farms and can advise on:
System management
Health and welfare-
Disease outbreaks and pest control - including advice on avain inflenza
Financial planning and costings
Cleaning the coop
"We believe feed should not cost the earth and there should never be compromise in production and health."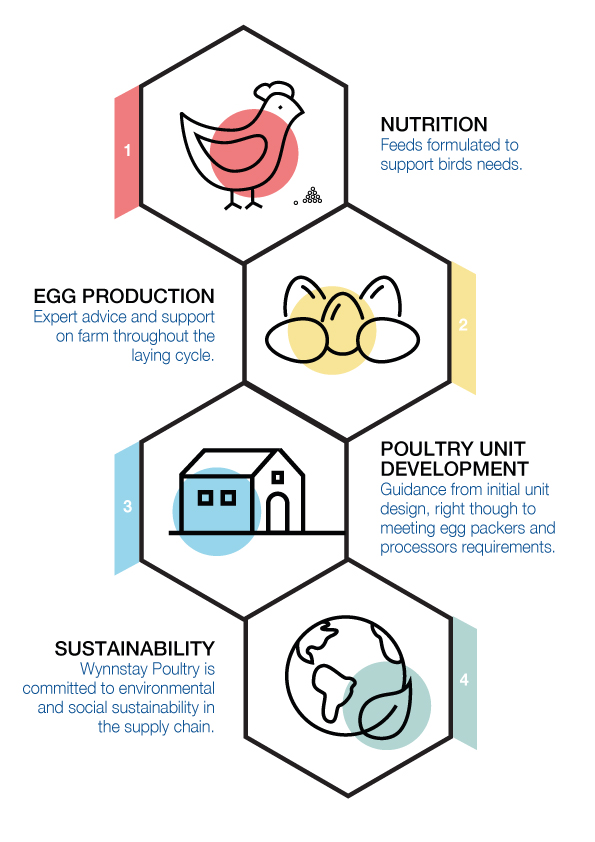 Let us help you achieve exceptional production goals
Our advice services are for poultry farms with over 50 or more birds, or for farmers looking to diversify into poultry.
Let us help you....
Wynnstay layer feeds are formulated based on three key values – production, bird health and cost.
"We believe feed should not cost the earth and there should never be compromise in production and health."
We use only the highest quality raw materials and ingredients throughout the complete ration range.
"We also use the latest science and methods available to produce feed that reduces consumption while increasing egg production."
Our specialist poultry team use data from past and present flocks to design a tailored strategy to achieve the very highest production.
They are fully involved in the implementation of the strategy, offering support on-farm throughout the laying cycle. This starts before a new flock is even delivered, as the team advises on breed selection, pullet monitoring and system set up.
Monitoring poultry flocks
Once a flock arrives, the poultry team regularly weigh and monitor bird growth, observe behaviour and track water and feed consumption. By being on farm from start to finish, the team can gather all the relevant data which can be used to continually develop the flock.
Improving flock outputs
A flexible strategy enables continuous improvement. With the use of our CracklessEgg technology, the team monitor 2nd quality eggs and cracks, and advise on areas of the system that need attention, potentially saving thousands in lost production.
Flock data can inform adjustments to the following strategic areas:
Nutrition
Biosecurity
Lighting plans
Disease control, health and welfare
For new poultry keepers, we offer guidance on the creation of a new unit from start to finish. New entrants benefit from our close relationship with the UK's main egg packers and processors, as well as our worldwide industry contacts.
Financial planning for poultry
Wynnstay are well known throughout the industry for producing the very latest cashflows geared for free range egg businesses. Widely used by farms and banks to help plan ahead through the flock, the cashflows are an invaluable tool for sound financial planning.
Pullet finance
Wynnstay offer one of the last true pullet finance facilities - we pay the 100% cost of the pullets to all rearers.
Our pullet finance is designed with production in mind, to ensure that nine repayments are taken by us when the flock is at its most productive. This means that the current finance is fully repaid within the cycle, with a payment break at the beginning and end of the flock.
Meeting egg processor requirements
We have strong relationships with the UK's leading egg packers and processors, which means we have the knowledge and skills to ensure fresh eggs meet the size, yolk colour and added nutrition requirements.
We are very proud of our involvement in the development and growth of the added value 'speciality egg' sector. Our team is in regular contact with our customers' egg packers and assist wherever needed to keep packer and producer relationships running smoothly.
Our strong partnerships also enable us to seek out the very best supply agreements, which brings peace of mind when looking to the future of the business.