Reseeding an existing ley can lead to a significant return on investment. Within several years 'weed grasses' will ingress into a sward – particularly if the field has experienced poaching or after a hard winter. These 'weed grasses' have poor quality characteristics compared to ryegrass varieties from the Recommended List. These include poor digestibility and a poorer response to fertiliser, as well as not converting to meat and milk as efficiently as ryegrass.
Top benefits of reseeding:
Improved yields
Higher DM intakes
Enhanced disease resistance
Earlier turnout of stock
Increased stocking rate
Increased palatability and digestibility
Improved grazing and silage quality
Higher response to nitrogen (N) fertiliser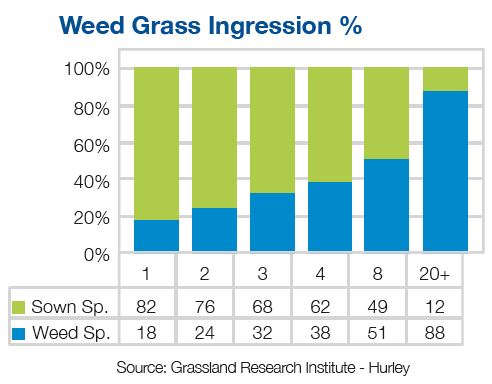 With the increase in volatility of fertiliser prices, it is important that a grassland nutrient programme is cost-effective.
It is essential that the sward comprises of grass species that respond to fertiliser to maximise on-farm profitability. After all, there is little point in applying fertiliser to a sward, which mainly comprises of weed grasses. This is both a waste of money and resource.
The graph (please see left) clearly shows the variance between perennials' efficiency and the efficiency of common weed grasses when
nitrogen fertiliser is applied.