Hybrid rye is a great addition to any dairy business looking to explore alternative forage options for dry cow and youngstock diets.
On most farms, dry cows are fed forages that change in their nutrient makeup throughout the year depending on which clamp is open at a given point in time. Therefore, when it comes to feeding over winter, rations need to be frequently amended to ensure a consistent diet when the forages change in energy, protein, fibre, and mineral content.
Hybrid rye can help alleviate these issues, by producing a high yielding crop of consistent nutritional value which can fill the clamp and be fed without alone in dry cow rations and can remove the need for straw to be fed in milking cow and youngstock rations.
Due to the energy, protein and fibre levels of the hybrid rye, there now isn't the requirement to feed straw on farm. Hybrid rye's nutritional content supports the needs of the dry cow and rumen function without the need to feed additional bought-in forages reducing ration cost.
To ensure the transition cows are receiving adequate amino acids, vitamins & minerals, Wynnstay has created a new dry cow blend, Transition Complete, which is formulated to be fed alongside hybrid rye either in a TMR or by being top-dressed on top of the hybrid rye in situations where a feeder waggon isn't available.
When growing hybrid rye, the result is one crop producing all the forage nutrients required to feed dry cows. Our Transition Complete then simply balances for the correct nutritional requirement of the transition cow and providing an additional 4,000 mg of Vitamin E to boost the cows immunity.
At Wynnstay we have brought this concept of dry cow feeding to South Wales in the past three years, during this time we have gained the experience needed to rationing dry cows through this period. If you're interested in learning more about the nutritional benefits that our Hybrid Rye can bring to your herd, please contact your local Wynnstay Representative.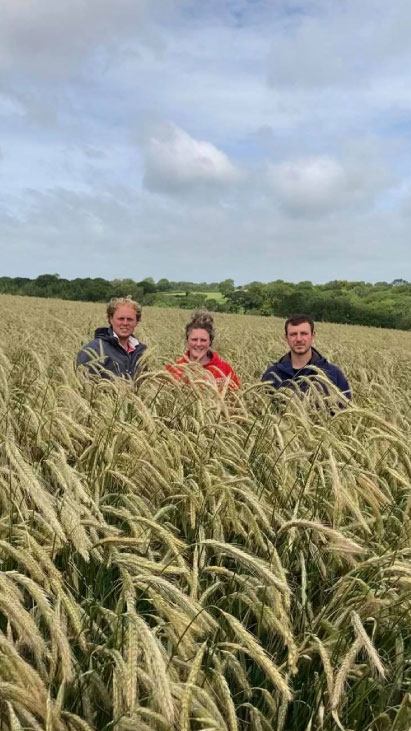 Great Hares Head dairy farm is run by Alistair, William and Hannah Lawrence, who grew hybrid rye for the first time in 2020 to feed solely as part of the dry cow diet, and saw great results in the clamp.
"Having recently expanded to a new 300-head set up, we were exploring alternative forage crop options which would produce a bulky forage for inclusion in our dry cow and youngstock rations.
"We spoke to Lawrence and Aneurin from Wynnstay, who suggested growing hybrid rye, as it's an easy to manage crop with big nutritional benefits which we can capitalise on for the dry cow ration.
"In September 2019, we drilled 23 acres of hybrid rye. It grew very well over the winter, with only the need to check it over the farm gate when passing. Furthermore, the turbulent weather didn't seem to impact crop growth. There were no patches in the field – we had a very consistent crop.
"At the end of June 2020, we harvested the field and were exceptionally surprised with the result – achieving over 20 tonnes/acre, with a protein content of 9.7% CP, NDF of 52.3% and the desired high levels of sugars and starch, at 20.2%. We were also pleased that there were low levels of potassium, 1.87%, which meant it would really suit the dry cows.
"For us, hybrid rye is definitely going to be a regular inclusion in our rotation as we look to double the acreage this winter. It's easy to manage, produces the nutritional and bulky forage we needed and is easily harvested alongside straw, so overall it's a very cheap and efficient feed choice."
Agronomy of the Crop
Lawrence Couzens, Wynnstay Agronomist worked with Alistair, William & Hannah on the agronomy and management of the Hybrid Rye crop.
The winter rye was established in September 2019. The field was sprayed with glyphosate and received an application of slurry before being ploughed and dressed.
Prior to drilling, 0-20-30 was applied into the seedbed to top up the Phosphate and potash from the slurry.
Once the field was drilled it was rolled and had a pre-emergence herbicide applied, with the crop then being left to grow over the winter, (one of the wettest for many years).
We crop walked in early March, and it looked exceptionally well with great weed control. It received the first application of Single Top (27N+12S) and fungicide, PGR, trace elements at GS30. Ideally, the fertiliser should have been applied in February to encourage tillering but the weather and soil conditions were not favourable.
The second application of Single Top and its second fungicide was applied in April.
The rye grew exceptionally quickly, and care had to be taken not to miss growth stages for applications. The crop was ready to harvest end of June when the grains were soft cheese and the lignin levels were low.
We harvested on the 20th of June yielding, 7tDM/acre, and the following week a long-term grass ley with Wynnstay Imperial was established. This is one of the benefits of the crop, as the farm will have a grass ley which is ready to cut in mid-September. The grass silage will be of excellent quality, equal to first cut as the grass will be very leafy, expected yields 1.25tDM/acre. This will give us a total dry matter yield of 8.25tons an acre of dry matter from the field.
For more information, click here to speak to a one of our specialists.